The shape of an engagement ring diamond is more than just a matter of personal preference.
It can also have a symbolic meaning behind it. For centuries, different shapes and cuts of diamonds have been used to represent special moments in love stories, as well as tell the story of two people's affection for each other.
From round diamonds that symbolize eternity to pear-shaped stones that signify teardrops of joy, the perfect engagement ring diamond shape can be chosen to express your unique relationship and commitment.
1. Symbol of Your Love and Commitment
The shape of an engagement ring diamond is more than just a style choice. It can act as a symbol of the couple's commitment to one another and their shared future together. The classic round-cut diamond, for example, is said to represent eternity because it has no beginning or end—just like true love!
Other popular shapes such as marquise cuts, emeralds, and cushion cuts also have special meanings behind them—from strength to friendship and even fidelity.
Ultimately, the perfect shape will be something that speaks personally to both partners in the relationship and celebrates the love they share.
2. Choosing a Perfect Engagement Ring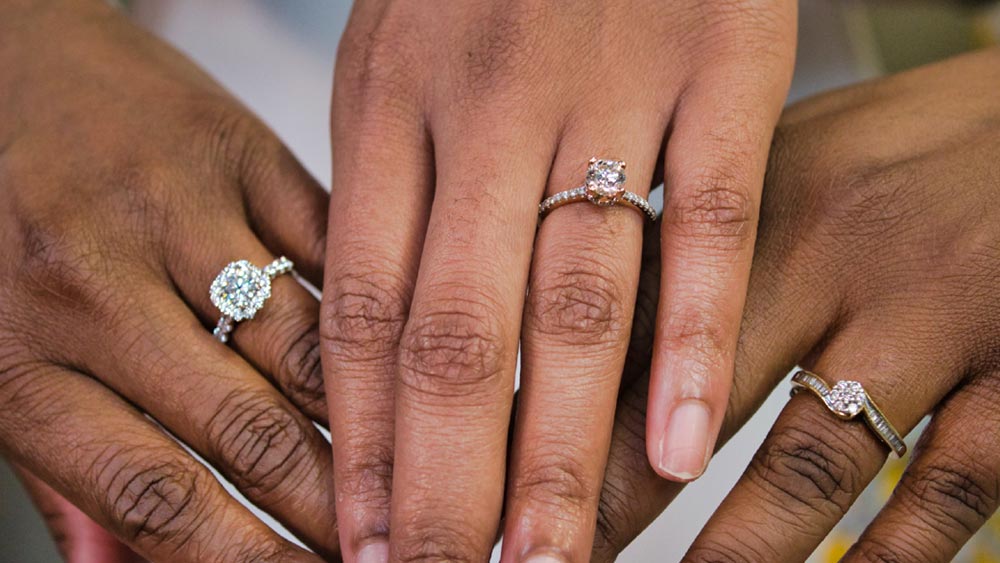 The shape of your engagement ring diamond can hold special meaning. Round diamonds are the most popular choice, but there are many other shapes to choose from and each has its symbolism.
Princess-cut diamonds, for example, are believed to represent royalty and eternal love due to their regal shape. Similarly, emerald-shaped stones symbolize nobility and beauty thanks to their sharp lines and rectangular facets. Heart-shaped diamonds signify deep love and affection between two people while oval stones symbolize eternity with no beginning or end.
Whichever shape you choose for your Engagement ring will be a reminder of the beautiful bond between you both every time it is worn.
3. The Power of the Four Cs
The Power of the Four Cs is an important concept to understand when selecting your engagement ring diamond. The four Cs refer to the cut, color, clarity, and carat weight. Together, these qualities determine the quality and value of a diamond.
Cut is responsible for how much light can be reflected off of each facet in a diamond and affects its sparkle; color indicates whether or not there are any hue variations; clarity measures internal imperfections or external blemishes; and carat weight determines size.
Choosing the right combination of these four elements will ensure you find an engagement ring that perfectly symbolizes your eternal love as well as reflects your style.
4. Different Shapes, Different Meanings
The shape of an engagement ring diamond is often chosen based on a couple's style. However, many shapes have also taken on special meanings throughout the years. For example, round diamonds are known to represent eternity and everlasting love due to their continuous loop-like shape.
Princess-cut diamonds signify elegance, while marquise cuts symbolize that the wearer is unique and incomparable. Emerald cuts stand for sophistication while cushion cuts express comfort and security in a relationship. Pear-shaped diamonds are thought to embody true romance as they resemble a teardrop or heart shape. Finally, oval-shaped stones can signify strength and integrity which makes them perfect for conveying commitment between two people in love.
5. Showcasing a Unique Style
The shape of your engagement ring diamond is often viewed as an outward expression of your style and personality. Whether you prefer a classic round or a more modern square, the selection of the shape of your diamond can be meaningful and symbolic. A round cut symbolizes eternity while emerald cuts evoke sophistication and elegance.
The princess cut is perfect for those looking to make a statement with their jewelry, while the oval shape has been said to represent love due to its elongated form. Ultimately, the meaning behind the shape of your engagement ring diamond comes down to personal preference. No matter what shape you choose, it will serve as a signifier of your unique fashion sense for years to come!
Conclusion
When it comes to choosing an engagement ring, shape matters. While a round diamond will always be classic and timeless, there are many other options for couples who want something a bit different.
Certain shapes can signify different elements of their relationship or even represent how they feel about each other. No matter what the shape, an engagement ring should reflect the couple's unique bond and connection.