Are you looking for the perfect way to care for your moissanite or lab-made diamond engagement ring? You've come to the right place! From tips on how to store it properly to daily cleaning and maintenance, we'll walk you through all the steps necessary to make sure your precious engagement rings stay beautiful and sparkly.
With a few simple measures, you can help ensure that your moissanite or lab-made diamond shines like new each time it catches your eye. So let's get started!
Cleaning and Care Tips
Your Moissanite or lab-made diamond ring is a precious symbol of your love, so it's important to take care of it! Here are some tips for cleaning and maintaining the beauty of your special piece. First, always make sure to remove your ring before any activities that could damage it.
That includes avoiding contact with harsh chemicals such as bleach and chlorine, using protective gloves when working in the garden or doing household chores, swimming in chlorinated pools without removing jewelry first, participating in extreme sports like rock climbing or skateboarding without protection, etc. When you're not wearing your engagement ring, store it in a safe place away from other items that can scratch its surface such as keys or coins.
The best way to keep dust and dirt off is by storing the ring inside an airtight container; this will also help prevent oxidation which can dull its shine over time. Finally, use a soft cloth to buff out fingerprints after handling as oils from the skin can cause discoloration if they linger on the metal too long.
Protect Your Ring from Damage
When caring for your Moissanite or Lab-Made Diamond Engagement Ring, protecting it from damage should be a priority. There are several steps you can take to ensure the ring remains in excellent condition. First and foremost, avoid contact with harsh chemicals such as bleach and ammonia which can damage the surface of the metal or even discolor some gemstones.
You should also take special precautions when handling solvents or cleaning agents; use gloves and make sure they are appropriate for any stone used in the jewelry piece. Additionally, store your ring away from extreme temperatures to prevent warping or other destructive forces that may have an effect on its appearance over time. Finally, consider having it professionally serviced periodically to check for wear and tear – this will help prolong its life span considerably!
Maintenance of Moissanite or Lab-Made Diamonds
When it comes to maintenance of moissanite or lab-made diamonds, there are a few important things you should do in order to keep your ring looking its best. Firstly, store your ring separately from other jewelry as this will help prevent scratching and damage.
It's also important not to expose the stone too much to water; if you need to clean the stone simply use a dry cloth with warm soapy water and gently rub away any dirt or residue. Additionally, make sure that when handling the piece of jewelry you do not pull on the setting parts as these can easily come undone. Lastly, have your engagement ring checked periodically by an expert who can ensure all is in good condition – this will help maintain its sparkle for many years!
Repair and Resizing Considerations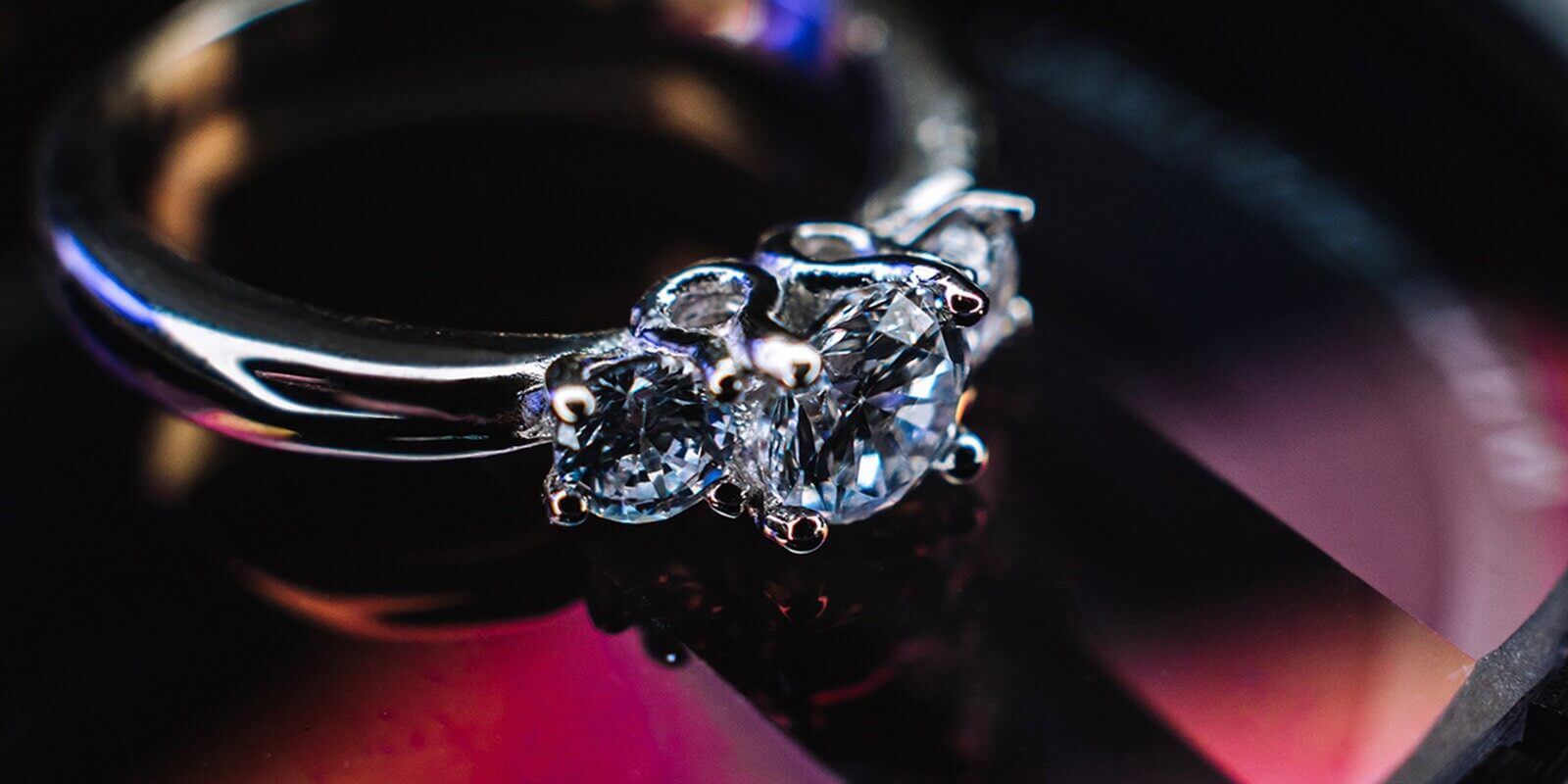 When it comes to repairing or resizing a moissanite or lab-made diamond engagement ring, there are many things to consider. Taking the time to properly care for your jewelry is essential in order to ensure its longevity and sparkle. It's important to take precautions before starting any type of repair on an engagement ring, as some methods may cause damage if not done correctly. If you need a repair that involves creating a new setting, such as resetting the stone into a different style of mount, then it's best to have this work carried out by an experienced professional who has experience with working on moissanites and lab-made diamonds.
This ensures that your ring will be cared for with the utmost attention and care during the process. Similarly, if you require resizing services then having these carried out by someone familiar with working with synthetic stones is essential too; incorrect sizing can weaken the integrity of both gemstones over time due to excessive pressure being applied. Ensure that all repairs are completed using materials designed specifically for use in jewellery making; avoid using general hardware store products when possible as they may contain chemicals that could damage your piece over time.
Also, keep in mind that certain types of metal are more suitable than others when it comes to holding delicate gems securely – gold plating should generally be avoided where possible as this wears down relatively quickly compared to other metals used in jewelry making such as sterling silver or 14k gold.
Choosing a Jeweler for Moissanite or Lab-Made Diamond Engagement Rings
When searching for the perfect jeweler to create or purchase a moissanite or lab-made diamond engagement ring, it is important to consider different factors. First and foremost, you want to find a reputable professional with plenty of experience in creating jewelry from these materials. The jeweler you choose should be able to provide insight on how best to care for your ring so that it will stay looking as beautiful as the day you purchased it.
It is also wise to ask about their return policy before committing, just in case something goes wrong down the line. Beyond finding an experienced professional, there are other considerations when choosing a jeweler for your moissanite or lab-made diamond engagement ring. For instance, what type of stones do they typically work with? Are they familiar with setting these types of rings? Do they offer any warranties or guarantees? Taking into account all of these questions can help ensure that your investment is well-protected and that you have chosen the right person for the job.
No matter which jeweler you decide on, always remember that quality should come first and foremost when selecting someone who specializes in moissanite or lab-made diamonds. When done correctly by a skilled craftsman, any one of these options can make an exquisite addition to your wedding band set!