NACON is the first company to develop a mobile controller for Xbox. The device allows users to play games on their mobile device while connected to an Xbox One.
The nacon mgx is a controller for Xbox that allows gaming on the go. It can be used to control games, music and apps on your phone or tablet.
Robby is obsessed with video games. When he isn't playing them, he is either talking about them on social media or persuading others to take up a controller. He's on the internet so often that he could almost… Continue reading
For gamers who are accustomed to playing with an Xbox controller, the NACON MG-X will feel comfortable.
It's small and portable, and the battery lasts a long time.
Only for Android phones with a screen size of less than 6.7 inches.
The MG-X, NACON's first official Xbox controller intended for mobile gaming and compatible with Xbox Game Pass Ultimate, was released today in Europe. This may be the gadget for you if you've been frustrated by the lack of screen space while gaming on your phone and your fingers keep getting in the way.
For quite some time, Xbox has been aiming at the mobile market, with several of its Xbox Game Pass games accessible on mobile devices, albeit only with a Bluetooth-connected Xbox controller or on-screen touch controls.
The MG-X has the same functionality as official Xbox game controllers and is designed to provide Android smartphone users a pleasant, handheld-style gaming experience. The controller is connected to the smartphone through Bluetooth 4.2, and the MG-X is powered by a rechargeable battery that lasts up to 20 hours of play. So there's no need to be concerned about the gadget draining your phone's battery.
What services does it provide?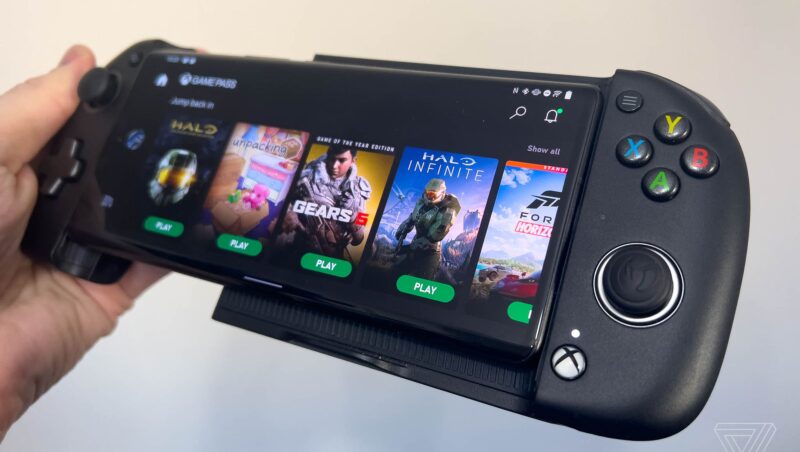 Universally compatible: Works with any Android smartphones running Android 6 or above, and because to its expanding form, it can accommodate phones up to 6.7 inches (152.4 mm). As a result, certain smartphones, such as the Samsung Galaxy S21 Ultra and the Samsung Galaxy Note 20 Ultra, will not fit. As a result, bear this in mind.
Comfortable to hold: The textured handles provide an ergonomic feel, while the anti-slip surface prevents the phone from sliding about.
It feels like you're playing with an Xbox controller: It features the same button layout as an Xbox One or Xbox Series controller, so Xbox players will recognize it right away.
When not in use, the MG-X can fold up into a smaller form factor, making it simple to throw in a bag and take with you for some on-the-go gaming.
Bluetooth 4.2 allows you to connect your smartphone to the gadget wirelessly.
Long-lasting battery: The MG-X comes with a rechargeable battery that can be charged through USB-C. (charging cable included). The battery state is shown via an LED indicator.
What is the price, and who is it for?
The NACON MG-X has an RSP of €99.90 and may be preordered from the company's website.
With Xbox's mobile-friendly library growing all the time, more and more titles are opting to play on the move. You can pick up where you left off from your console gaming session thanks to the cloud-based savefile, and this controller will make the transfer even easier.
The MG-X is ideal for gamers who want to continue playing their favorite games while on the go, such as on the bus or train, without having to switch to a separate device.
Was this page of assistance to you?
Thank you very much!
There are insufficient details It's difficult to comprehend Other Speak with a Professional
Start a discussion.
The best gaming controller is a mobile controller for Xbox that allows gamers to game on the go. It has been released by NACON, which is a company that specializes in mobile controllers.
Related Tags
nacon mobile controller
nacon xbox controller
nacon revolution unlimited xbox one
cheap xbox one controller
customize xbox controller